The new math
My collegiate career left me three or four courses shy of having a bachelors of science in Mathematics. For some reason the brain trusts that formed the Computer Science curriculum, and not just at the school I attended, decided Math should be the predominant theme.
The early years of my collegiate experience (I spent a total of eight years enrolled full time) were spent studying Linear Algebra, Calculus and Statistics. From there as I moved into courses geared more towards my "major" I was taking Discrete Mathematics, Computation and Complexity Theory, and other various math courses mixed in with the computer science courses. During these courses I've seen and studied numbers enough to drive sane men batty and to push those of us already teetering on the edge into full blown insanity.
After gradiashun I'd decided the real world wasn't for me, plus the tech bubble was about to burst, so I decided to stay in skool. I'd started out going after my Masters Degree in Computer Science, then after another semester spent in the hallowed halls of the Math Building (which had a perpetual aroma of body odor) I decided I'd switch gears and become an SOB. Well at least I'd be a certifiable SOB since I was going after my MBA, I'd officially be a School Of Business student.
Thus the focus of my mathematical edumicatshun switched focus. No longer was I writing three and four page proofs to solve one question, I was now concerned with Debts and Credits, Micro and Macro Economics, Financial Reports and how to tame the Shrew using Statistics once again.
Yet all these courses failed to teach me anything about the facts of life. Yes during my eight years of College one course backed up theories of "New Math". That indeed 1 + 1 = 3, and in some cases 1 + 1 = 4 or more. I've spent hour upon hour researching this on Al Gore's wonderful internet and I've found a couple of sites stating this to be true, yet they fall to the way side with all the naked midgets and dancing penguins available.
Proof folks I've got photographic, and other graphic, proof that 1 + 1 = =3. See the missus is "with child", so Me + Her = phin jr. Of course negotiations are still taking place in the naming arena as she isn't a fan of naming him phin. The missus has reached week 22, or is it 23, of the impregnation cycle and all things are progressing fairly well. No morning, afternoon or evening sickness, not significant cravings of any sort and she hasn't broken my fingers yet (although a couple of ribs are in questionable shape).
A couple of weeks back she had an ultrasound done, things are progressing as expected. Ten Fingers, Ten Toes, Eyes, Ears, Mouth, a dangling participle, Yay a dangling participle. He's a boy and he isn't bashful (just like dear ole dad). We were given pictorial proof that we (or at least she) had had "the sex" and gotten it right.
The pictures are below in the extended entry, bloggering may be light the next day or two as I'll be in meetings since 1 + 1 an additional mouth to feed.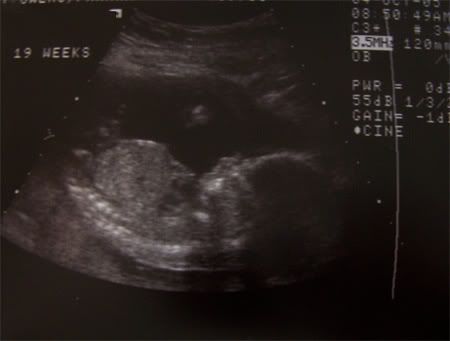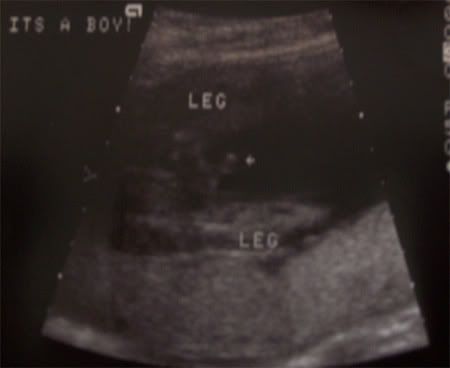 It's a Boy!!!
I've tried to talk the missus into the nickname of Tripod until he's born but she isn't going for that name either. I guess in the interest of self preservation and harmony we'll go with Whozit or Junior.
<! -- End Body of Page -->