Maynard G. Krebs has left the building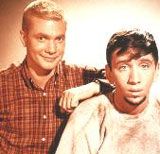 Beatniks worldwide are arranging protests due to the motivational speech I gave during a production meeting earlier today. I wasn't overly abusive, physically, I don't think, well maybe just a little.
As we laid out expectations, responsibilities, goals and deadlines for the next year you could see the wheels churning as the peasants began to revolt. Why should they be held accountable? Why should they have shedules to meet? What was in it for them?
My two word reply: Continued Employment.
But no, that wasn't good enough, why should they be expected to perform? They had to be given a reason. Yes dear readers they wanted purpose. And that is when the proverbial shit hit the fan. Think Bobby Knight, in a conference room, without the throwing of chairs, okay maybe one or two chairs were rearranged, but they were vacant.
As kind and polite as I try to be, I've come to a realization that a healthy dose of fear is required at times.
Sign up now ladies and gentlemens, I'll be lecturing all week on the Motivational Tactics Genghis Kahn. The cost: $35, you must provide your own sacrificial lamb, goat or sheep.
<! -- End Body of Page -->