Uberhot liberal chick of the day
Not wanting to leave my lefty reader(s), all one of them, out I've decided to post a picture of the scorching red hot liberal babe of the day.
Ms Susan Estrich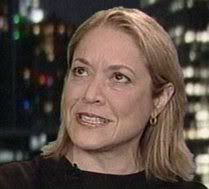 Sure she's no Melissa Theuriau, but she's among the best they've got to offer.
Up next a pillow fight at the DNC Headquarters between Madam Estrich and Senator Clinton.
<! -- End Body of Page -->