She's no virgin
and her Daddy's proud of it. Or something?
The family of a teenager in Texas has sued Creative Commons, Virgin Mobile Australia and Virgin Mobile USA because Virgin Mobile Australia happened to use a photo of the girl in an ad campaign in Australia. The photo had been taken by the girl's youth counselor, who posted it on Flickr, with a Creative Commons license saying the photo could be used with attribution...

...The family says that they're quite upset because people can now "Google" their daughter. Yet, the ad doesn't have her name, and the photo was put online by the youth counselor, so it's not clear how they could be Googling the ad (and, of course, by suing, the family is only drawing a lot more attention to the ad). Finally, the family is complaining that this is defamatory and insulting.
Source
. My bold.
Below is the ad in question (via Flickr).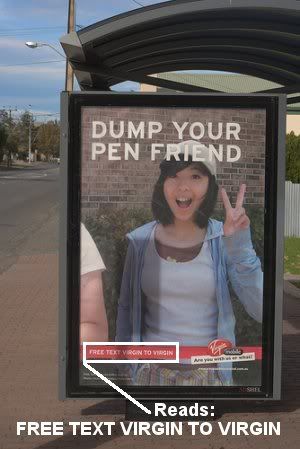 I'm kind of curious how the virgin to virgin bit is insulting / defamitory, unless Daddy's little girl has a reputation of being, how you say, "easy / fast / a giver / a skank / a hussy" that the family is proud of and that they're willing to fight to uphold.
Kind of reminds me about the guy in West Virginia who got an annulment after finding out his bride was a virgin on their wedding night. Back at his parents house the ex-groom explained what happened to his father. The boys father wraps his arm around his sons shoulders and says. " Son, you did the right thing. If she ain't good enough for her own family, she sure as hell ain't good enough for ours."
(The original image was lifted from here.)
Posted by phineas g. at
01:19 PM
on September 21, 2007
<! -- End Body of Page -->